Considering colourful buildings nightlife, seafood, and tropical fruits in the city, Cartagena has become the most visited city in all of Colombia. The city is always the first choice of travellers going to the Caribbean coast. Yes, Cartagena is one of the top-visited cities in Colombia and a famous vacation city for both foreigners and Colombians as a whole.
Cartagena, a magical city, located in the Northern part of Colombia on the Caribbean Coast. The city doubles as a port city for the Colombians and tourist centers for visitors with lots of exciting things to do there. With the rich cultural background and beautiful houses, activities Cartagena is sure to get a tourist stuck in awe. Read down to get an insight into the irresistible attraction while on vacation in Cartagena.
Enjoy A Free Walk In Cartagena
What better way can you get the beauties that this heroic city is made of, if not when you take a stroll, walk, and tour of the town. Cartagena's inner walls consist of historic districts of San Diego and El Centro.
El Centro
Take a look at El Centro. El Centro is one of the oldest districts in the history of Cartagena packed full with all historical monasteries, plazas, churches, mansions, and palaces. All this comes with their famous shady patios and hanging balconies. El Centro has one of the best examples of a preserved old town architecture in America. El Centro is the best place to experience the old town local snacks, street life, and savouring architectural design.
Take a quick look at notable things you will see when you decide to take that walk through Cartagena.
The famous clock tower also is known locally as Puerta Del Reloj- Visibly seen at the ancient main entrance of Cartagena.
The portal of sweets also known locally as El Portal de Los Dulces- a spot on the archways where local sweets are sold
The renowned ancient church, also known locally as San Pedro Claver Church – has an eye-catching structure with an art museum siding it.
A chilling park also is known locally as Parque de Bolivar- a cool spot for relaxation, etc.
Enjoy Top-Notch Street Art In Getsemani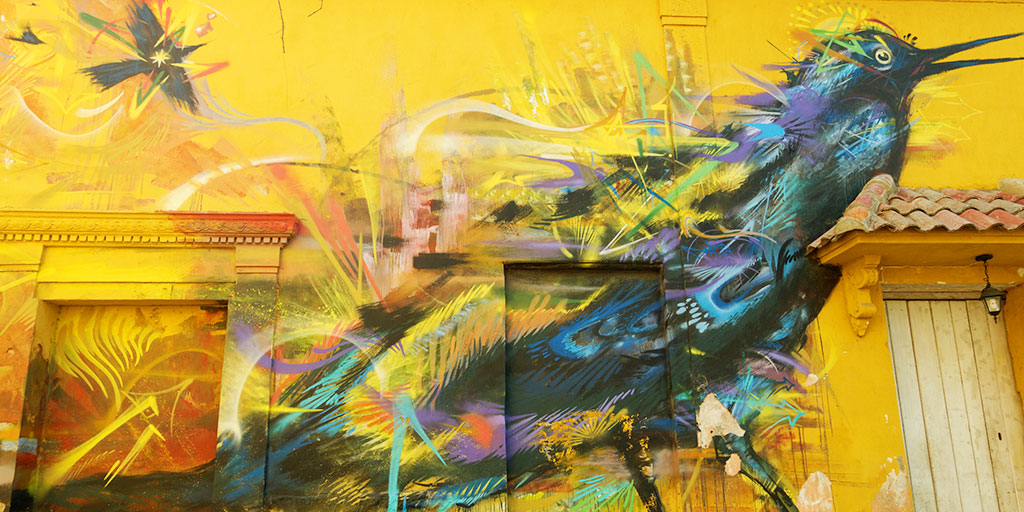 Photo Credit: Cartagena Colombia Rentals
The area of Getsemani, has a fascinating tourist side to it, street art. They are fantastic when you behold them, and it makes the Getsemani the best for tourists. The area also has housed lots of restaurants, bars, cafes where you can grab local dishes and vibes, especially at night. This area can be explored on a personal note by the tourist or seek the services of a tour guide.
Behold Castillo San Felipe, For Safety
Photo Credit: Fortificaciones Cartagena
Castillo San Felipe is a defence system built as far back as 1657 to protect the city from enemy attacks, especially pirates who steals their treasures. This Castillo was strategically situated at a place outside the walls of the ancient city with a view on all the parts of the city. It will be fantastic if you behold the whole cities looking from one spot.
It has this attractive unique tunnels built underground in a maze-like structure.
Patronize The Fruit Vendors
There is no way; you will get past the city of Cartagena without observing the heavy presence of some colourful individuals selling fruits. These vendors mostly are Palenque's by the origin and seen as a significant part of the city's history.
It is funny to know that their nice free gesture stops when you have the intention to take a pic with them. They must make an earning of the situation; thus, you must tip them to enjoy that gesture, funny, right?
Perfect Your Spanish
Yes, even as a new beginner, you can still comprehensively learn and perfect Spanish in Cartagena. If what you have in mind is travel Cartagena, be sure that you will go to the number one top city in South America; thus, Spanish is necessary for communication in South American countries.
Teaching Spanish languages in all schools is one of the activities Cartagena brings to its new visitors. The prices are affordable, and the quality of Spanish class there is standard.
Add Dancing Skills To Your List
There will be no Caribbean culture without dancing included. The city locals enjoy these actions that they use it as a means to get busy. Thus, as a tourist, there is no better place to get encouraged to improve your dancing skills than here. Don't worry if you suck at dancing; you will perfect salsa at no distant time. Other dancing styles like bachata and. Merengue is also readily available.
When you feel you have gotten the groove on, could test out in places like Cafe havan or bazurto social club though the latter is preferred because of the presence of a live band and the less crowd found there. The drinks will help you move, don't worry.
Relax At The Vacation Cartagena Beach
Cooling off from sun on cool sand is one common feature of Caribbean tourist centers; thus, the Cartagena is not left out. However, if you want to travel Cartagena with the hope of seeing and enjoying an overwhelming beach experience, then you have to think again. Check this out to know the best Cartagena Beaches you can visit.
It is though reasonable enough, and Playa Castillo Grande is the best option. Just like every other beach, you have the sea wind to keep you calm. Engage the services of a sharemycasa and visit the beaches at Playa Castillo Grande, Playa Boca Grande, Playa Hollywood, El Laguito
Playa Castillo Grande
Photo Credit: Tripadvisor
The Playa Castillo Grande is a high-quality beach with apartments around it. If you are looking to live in a beach-like environment, Castillo Grande is the place. The beach is surrounded by high walls with a defense mechanism in place to keep you safe within its walls always. Go to the sharemycasa website and make a booking.
Playa Boca Grande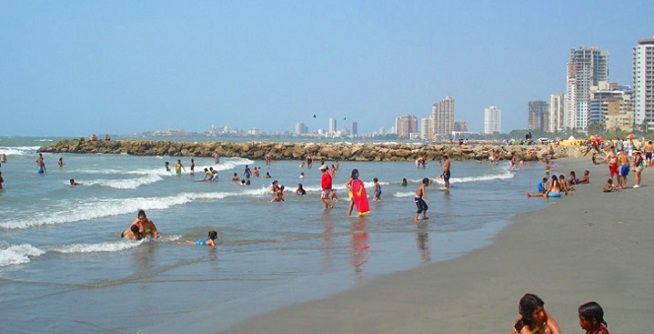 Playa Boca Grande is a great beach and one of the busiest in the city. So you have more opportunities to meet different people from different angles of the world. You get to see the lifestyle and culture unfold. Boca Grande is the most convenient beach to feel close to the sun if you don't feel like moving beyond the heartland.
Islas de Rosario And Playa Baru
Take a speed boat through the Islas De Rosario and feel the magical city in one single form. Admire the scenic view of the Cartagena bay and the picturesque beach on Encanto Island. Reach the Encanto Island near Islas de Rosario and enjoy beautiful moments at the beach with comfortable facilities.
Get Spoilt With The Tasty Seafood
Being a Caribbean city, seafood is readily available in almost all restaurants or local joints; only your money will decide where and how constant you enjoy this luxury. A low budget can deprive a tourist of this sweet thing, but otherwise, check out La Cevecheria; it arguably the best spot for it.
Ceviche, seafood in its local delicacy, can also be served best at Boliche Cebichería, though not as popular demand as La Cevecheria.
Taste The Local Cornmeal Cake
Locally called Arepas, this naturally gluten-free staple food can be seen virtually everywhere in Colombia. Commonly sold by vendors but can also see in some restaurants.  These local cake can be eaten alongside egg (huevo), cheese (queso), chicken (pollo), avocado (aguacate) depending on your choice.
Relax The Night At Cafe Del Mar
Photo Credit: Café Del Mar
The night view of this cafe makes tourist's travel Cartagena worth it. After days of bubbles, locals and tourists found their cool spot at this cafe chilling with cold drinks and enjoying the sight. The cool breeze of the spot gives a perfect relaxation feeling to the persons there. It is quite a popular place sitting on top of the old city walls, and it doesn't disappoint even in their blend of cocktails added to the ambiance provided.
Enjoy The Chiva Bus Ride
Photo Credit: Flickr
You can alternatively decide to make the city tour using the Chiva bus, and you won't get disappointed. The Chiva bus, a stylishly built open bus with lots of colourful beautification on it conveys tourists round the magical city for pub crawl as well as enjoy lovely sights. The ever buzzing bus doesn't lack entertainment as top music sounds out loud from the bus with people dancing and shouting while they enjoy their drinks, the music, and the ride. Still on this, you can make friends mix with the locals, which is a good thing to learn more about the city.
Try Out Boat Ride At Sunset
Photo Credit: Colombia Tour Tickets
This is typically a must-to-do action for couples, lovers, or best friends. On a calm night, tourists can board a boat with his partner and enjoy the night view on a boat cruise. This activity Cartagena, actually sets a romantic tune for love birds. To enjoy this, the Sibarita sunset boat cruise is possible best option.
Have A Volcano Swim
Photo Credit: Destinationmagazine
It is quite interesting to know that people enjoy crazy stuff, why not try it out too. El Totumo is the place to be if you want to enjoy a volcano bath in Cartagena. This volcano crater can be located in the northeastern part of the city Cartagena about 50km away. I know you will be wondering how possible it is for someone to swim in a volcano. Yes, it is not a lava spitting volcano, it is a mud spitting volcano. Yes, dirt, that's what tourists swim in! It has a simple mechanism, climb to the top using the stairs, locates the crater, and then off you go for a mud bath. A thoroughly taken a shower with clean water ensues afterward.
Just like many other tourist spots, you can decide to have a feel of there on your own or take up the services of a tour guide.
Behold A Hub Of Islands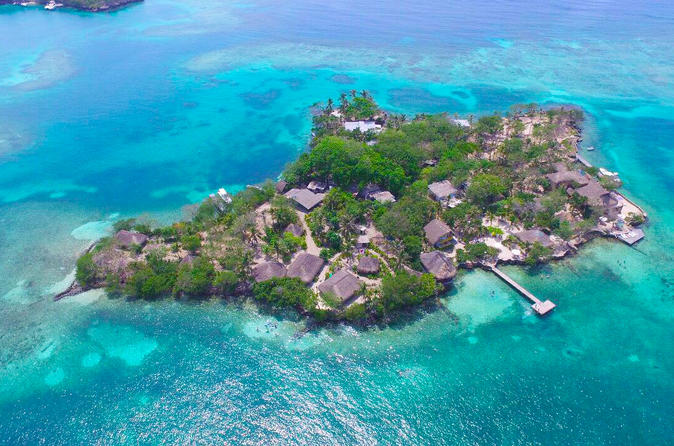 Photo Credit: Wiztours
Islas Del Rosario, a hub housing about 27 small islands is, undoubtedly an ideal place to behold. Tourists will only have to travel 35km south of Cartagena to locate this place. It is advised that the journey takes place as a day's cruise to avoid the scorching effect of the heat. If you are moving from Muelle Turistico, you'd to be treated with a nice lunch and lots of entertainment while they go.
Have A Nice Time At Plaza De La Trinidad
Photo Credit: Flickr
Arguably, the best spot in Getsemani to cool off and have an excellent time, especially at sunset. It has a buzzing atmospheric condition with lots of locals and tourists found at every corner having a superb time. Vendors are also found there displaying and attending to the people there.
Things get more interesting at night with lots of entertainment displays, and people come out to hang out with friends. You will see lots of food, drinks to suit your desire while the street entertainers do their things.
Conclusion
Looking at Cartagena, most of the side attractions are in the Old City Walls like the El Centro, El Totumo, Getsemani, and more. If you wish to have Cartagena as your next travel destinations, you can contact us at Sharemycasa for a smooth and easy comfortable travel experience.