"It's better to see something once than to hear about it a thousand times." 
If you plan to find out and visit the best travel destination during pandemics, you have to consider our choice. Cartagena is one of the best places to travel during a pandemic. 
When you think of visiting Cartagena, the picture comes to mind as one of the gorgeous Colonial towns next to the Caribbean. Cartagena is a port city of Colombia with a tropical climate, and it is the most prominent part of the country. Colonial architecture, fascinating local festivals, exciting nightlife, colorful roads, and landscapes make it an excellent tourist destination. Unlike other cities, the best time to visit Cartagena is anytime you prefer, especially winter to spring. 
If you are planning for a safe and beautiful vacation, you must know about Cartagena more deeply. It is considered to be one of the best places to travel during the pandemic. Check out here to learn more about travel safety in one of the best cities in Colombia. And if you are a person who loves the vivid nightlife experience while visiting a new place, this place will be a landmark in your travel diary.
Current Curfews and Regulations Within Cartagena
Cartagena is the best place to travel during pandemics and safer than any other major city, and it is also a frequently visited tourist destination around the world. It is high in the rank of visiting the place, and before the epidemic, it had astounding arises in the vacationers around the globe. Compared to the other cities with high restrictions, Cartagena has liberal curfew timings and flexible weekend curfew. 
Cartagena is officially one of the best cities to travel to during a pandemic due to its low Covid rate and disbanding of several criminal organizations. The places inside the location of Old City are perfectly safe for vacationers. Cartagena's Caribbean vibe and the prompt measures have been the most significant factor for the visitors to visit there rather than other cities such as Medellin or Bogota. 
Currently, Cartagena extends nightly curfews from April 5, 2021
Municipalities with ICU occupancy levels between 50-60 percent from 12 am to 5 am

Municipalities with ICU occupancy levels between 70-79 percent from 12 am to 5 am

Cities with ICU occupancy levels between 80-85 percent from 12 am to 5 am

Cities with ICU occupancy levels above 85 percent from 12 am to 5 am
Other rules and regulations to follow at present:
Large parties and mass gatherings are not allowed.

Municipalities with high infection rates are allowed to restrict access to public beaches and other large public areas.

There will be no impact on the operations of hotels, restaurants, or shops for buying essential goods. Foods and beverages are allowed with maintaining general Covid protocols of using facemasks, social distancing, and sanitization

Persons returning to home from other states or cities can travel during curfew hours
How Safe is Cartagena to Travel Now
We can definitely say that Cartagena is the safest city in Colombia in case of terrorism and other illegal matters and one of the best cities to travel to during pandemics. 
Instituto Nacional de Salud (INS) in Colombia's report says that it had completed 13,616,060 COVID-19 tests in Colombia on 15th April 2021. As a result, we can say Colombia has completed 267,266 Covid tests per million people residing in Colombia based on a population of 50.96 million. The active cases dropped in a few weeks, as reported by the state.
But in this Covid surge, it is advisable to know details about the situation before you plan to travel there. 
The number of current confirmed Covid cases is 25,69,314 (April 15, 2021), and the death cases are around 66 482. Both have increased by approx. 3% each. 

The ministry of Foreign Affairs and Trade has physically closed the physical premises of many embassies in Colombia, such as the New Zealand Embassy. 

Local authorities might monitor or change the security situation during this period. 
Photo Credit: Travelpulse
Flight Information to Reach Cartagena Under Covid Restrictions
One of the best travel destinations during the pandemic is Cartagena but due to the Covid second wave situation, the restrictions are changing dramatically and rapidly around the world. But the travel warnings are evolving with the current situation. All the rules and regulations are subject to change accordion to the situation and authority decision.
Entry of tourists is partially allowed in the country. 

Flights from the United Kingdom and Brazil are currently suspended.

Passengers arriving from and the passengers who have taken any transition from Brazil and the United Kingdom Are not allowed to enter. 

Nationals and Colombian residents coming from or transiting through the United Kingdom or Brazil are subject to be quarantined for 14 days upon landing.

You may be able to stop quarantine if your PCR report comes negative within seven days of arrival in Colombia. 

Passengers must have a negative Covid19 PCR test before arriving at the airport. PCR test is not mandatory for the nationals or residents, but they must prove why they couldn't take the test. They might have to take the test after arrival or be quarantined for 14 days at their expense.

Travelers need to fill out the form

Check-Mig

available on the

Migracion-Colombia

website 24 to 1 hour before departure. They can wait for the confirmation email, which they will need to present upon arrival in Colombia.

Colombia's land and water borders will remain closed until June 1. 
Know All About Covid-19 PCR Test
As we can assure you that Cartagena is the best place to travel during pandemics, it has specific protocols to follow while you travel there.  A negative Covid PCR Test is required upon entry in Cartagena by the Ministry of Health. Travelers must present the Covid 19 negative PCR test result, not before 96 hours of departure. Citizens of Colombia, foreign diplomats, holders of Colombian M, R, or courtesy visas are not bound to provide the test report. Still, they will have to obtain the result within the given time frame. The Government will decide on doing the PCR test and/or isolation upon arrival in the city. 
Now let's know a PCR test and how to get it done while traveling to and from Cartagena. Polymerase Chain Reaction (PCR) or Serologic Tests are both techniques used to screen the deadly disease of the corona. PCR Test is done to detect the antigen directly, and it can show whether or not a person has the virus very early on. It gives a good indication if a person is infected by the virus to be isolated or quarantined. 
How a PCR Test is done in general:
A nose swab is done for the sample collection of the respiratory material

After sample collection, the swab is sealed in a tube and send for test in the laboratory

Through the process called extraction, the laboratory technologists test the sample

A thermal cycler, which is a PCR machine, is used to complete the test process

The fluorescent light which is created by a chemical process determines the positive result of the presence of the covid virus

A person should expect the PCR Test result within 24 hours after the sample collection
PCR Test in Cartagena is needed while you travel to or from Cartagena. Check out how and where you can do that: 
A PCR test is the most accurate test to detect CoronaVirus, and it is needed if you are traveling. It is an expensive test and takes longer to get results. Rafael Núñez (CTG) International Airport in Colombia processes guaranteed 24-36 hours of processing test reports by their healthcare system, such as Healthcare. They also do the antigen test in just an hour for quick information. In Cartagena, a PCR Test costs approx 350,000 pesos, an antigen test costs approx 150,000 pesos, antibody tests cost around 110,000 pesos, and they also do home testing. 
Covid-19 and Other General Protocols to Follow in Cartagena
In many ways, we can assure that Cartagena is one of the best places to travel during the epidemic. If you are traveling during this Covid surge, some of the mandatory rules and guidelines you have to follow are:
Wearing a mask is mandatory in Cartagena in public places and public transports.

Cloth masks are not effective in stopping to spread of the virus 

Consider getting a

KN95

,

FFP2S

, or

proper medical-grade masks

Contact

regional helpline

centers for information regarding the current covid situation and protocols. 

Dial emergency service 123 for any issue regarding staying or traveling
Other Safety Protocols, Along with the Covid Situation
Maintaining Biosafety Protocols is important in Cartagena if you want to travel locally. 
Other than Covid protocols, the minimum precaution and prior knowledge of everything is necessary before the visit. Some basic precautions can make the grand trip peaceful and worthwhile. 
It would help if you watched your possessions at the beaches as robberies are common, mainly when people leave their things while going to swim. 

Keep special attention to your cellphones as these are the most common stolen things in Cartagena. 

Avoid bad neighborhoods and stay away from illegal activities. Avoid taking much cash with you. 

Always keep your backpack in front to avoid snatching or stealing from behind. If you are late at night, it is better to call a cab instead of walking around. 

Do not invite unknown people to your hotel, and try to keep your profile low. 
Health Insurance for Traveling to Cartagena
Cartagena is the best place to visit during pandemics if you are well prepared with your travel plan. Buying comprehensive travel insurance covering all intended activities is a wise decision before visiting one of the best places to travel during a pandemic. A good travel insurance policy will provide security in case of a medical emergency or other money-related issues. If you can not afford a travel insurance policy, taking care of a monetary crisis will also be a problem during your travel. If you are an immigrant living in Cartagena and test positive or have corona symptoms, then the EPS insurance will be a great help. 
Night Clubs and Restaurant Protocols during the Pandemic
If you plan to see the grand nightlife, Cartagena is the best place to travel during pandemics. During Covid months last year, the businesses were bound to shut due to many casualties, and Cartagena had to only rely on tourism. The places that survived all have bounced back, and tourists can expect many fantastic restaurants, bars, cafes, islands, and beach clubs opened for people. El Patio – Getsemani, El Arsenal – The Rum Box, Alquímico, The Clock Pub, etc., are places that visitors can enjoy during nights.
Cartagena is one of the best places to visit during pandemics, as in the nightclubs and restaurants with Covid protocols, you can still enjoy your vacation. You might need to go through some process and protocols to enter the restaurants:
Selected bars are open after midnight

You might have to fill up an online registration form with the details of your name, ID, and if you have any Covid symptoms.

Mask is essential in public places which are in open or closed areas. You can open your mask while sitting at your table and having food but have to wear it while walking around the place.

Many restaurants, bars, nightclubs, and other entertainment places have reduced 50 percent for people. There is still less or no restriction while having food and drinks.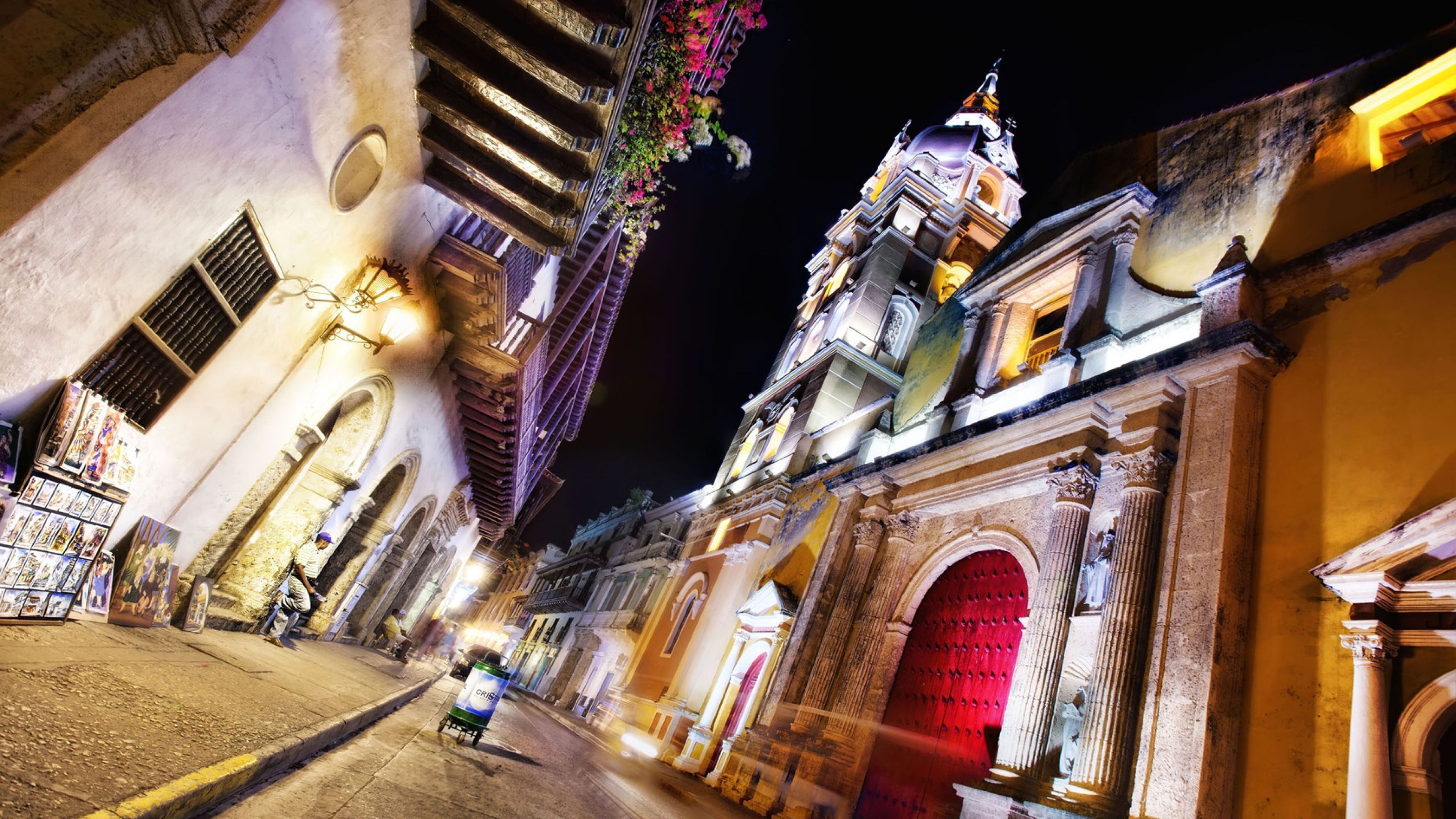 Photo Credit: Wallpapercave
Global Travel Advisories
Cartagena is the best place to travel during a pandemic, and it has a lot to offer. Before traveling, go through all the essential information stated above and have a safe journey to your destination. 
Nationwide precautions and restrictions are there in Cartagena and Colombia, and some may vary as per different departments and municipalities. Avoid crowded areas and follow the latest instruction of the local authorities of Cartagena before and during your travel duration.