Photo Credit: colombia.co
Taking a vacation is one thing but visiting the right place, that requires a lot of research and planning. Research has shown that vacation does a lot of good in a person's life, mainly when you visit a place enchanted with memorable and exciting sights, activities, games, ultra-modern facilities to living in, and good music.
It is worthy to note that the reason why you should make Cartagena your need city for a vacation is the exciting moments in which you should check out what to do in Cartagena.
Cartagena is the Colombians most visited Caribbean city and has a lot of excitement to offer its visitors. The city is also known as the city of magic. Taking a vacation in Cartagena is charming to travellers as it could help relieve stress and improve health conditions, due to the fun-filled activities and giving tourists a platform to learn more.
HISTORY OF "THE CARIBBEAN MAGICAL CITY"
In the year 1533, June, to be precise, during the colonial era in Colombia, a port was established specifically to serve a trading port for Spain and its international partners by Pedro de Heredia, between Sinu Rivers and Magdalena.
Cartagena is located in the Northern part of Colombia on the Caribbean Coast. The major trade in this city during this period was the exchange of Peruvian silver and African slaves between Colombia and Spain. Read more about this here.
Vacations in Cartagena is the second largest in the Caribbean coast region and fifth in Colombia.
Some renowned organizations and institutions exist in there for work and educational purposes. For instance, it serves as the capital of the Boliviar Department.
In terms of development and the economic status, Cartagena is the fifth most developed city in Colombia, and the economy enjoys significant contributions from petrochemicals and maritime sectors. Not to leave out the most attractive donation, which is tourism that makes the city an ideal spot for a vacation.
Before its present-day looks and glory, Cartagena has passed through many eras spanning from the pre-colonial period in Cartagena bay. To actualize what we know today, City of Cartagena (the heroics), Pedro de Heredia, made his way into Cartagena bay, armed with accessories like three ships, twenty-two horses, and artillery. He fought many battles and overcame many challenges.
This victory would automatically lead to today's history. Pedro de Heredia was at the helm of things at Cartagena for twenty-two years before fate met him in Spain. After years of constants trials and attacks from pirates and other surrounding government on the port, The government of Cartagena set-up walls and other defensive mechanisms to protect the city's constant threats. If you would like to read more about the history of Cartagena, click here.
VACATION CARTAGENA, AN IDEAL SPOT
Cartagena is an ideal choice for vacation because of its affordable vacation, delicious meals, and absolute security.
Plan Your Vacation With ShareMyCasa At Casa Cartagena

Are you planning to visit Cartagena for your next travel destination or vacation spot? Plan a trip with Sharemycasa today! Sharemycasa has everything covered from getting your personal plans to refining your plan by letting us help you find the best option by booking with us. We have you covered including where to stay to cultural tips and managing all your plans. Yes, you get lots of luxurious and accessible living space with Sharemycasa. Some packages are on the high side and we have some others that work fine for the middle-class travellers.
With Sharemycasa, you get 24/7 online support, private beach house (if you wish to stay by the beach). We have everything handled from arrival at the airport to your dropoff location. Also, we have your movement around the city covered including movement from one fun location to another which includes Rosario Islands, Cafe del Mar, Playa Boca Grande, Playa Castillo Grande and more.
You don't have to be so bothered about your vacation spot in Cartagena because Sharemycasa has you covered with the best vacation ideas. When choosing a vacation spot with guidelines from Sharemycasa you need to put the following into consideration:
We provide you Airport pickup and drop off
We provide you guided tours of the city, Castillo San Felipe
We provide sunset boat tours, snorkelling
We offer day trips by boat to Baru & the Islas del Rosario (Meals Included!)
We also offer Breakfast, lunch, & dinner options while staying with us in any of our stays in Cartagena
We offer 24/7 online support for any question you may have while on your trip
If your dream is to travel to Cartagena, don't just go for an affordable vacation, instead believe Sharemycasa is capable of bringing those dreams into reality.
Sharemycasa will provide you with certain guidelines on every district you visit, including style, culture, foods, security. We also offer a guidebook and a translated copy in different languages for you as well.
DELICIOUS FOODS
Hotels in Cartagena don't disappoint when it comes to meals, and they are quite a few delicious meals you can find in the meal list of all the hotels in the city. Tapping some flavour from the old kitchen while also staying abreast of the current trends. Ranging from meals with old Arabian, African heritage to modern European dishes.
You will see meals like coconut rice known as Arroz de coco filled with meats, chicken or dried fish, and plantain known as Patacones and salad. They are also lots of fruits found in many places in the city. You should look up the top delicacies in Cartagena, both local and continental dishes. Tasty Meals are unique to a restaurant for travellers around the world.
Galeón Bucanero
Photo Credit: flickr.com
The Bucanero Galleon is a replica of a 17th-century Spanish Galleon, it is a museum of the history of pirates and privateers in the Caribbean, has a souvenir shop and Café – Bar.
Club Naval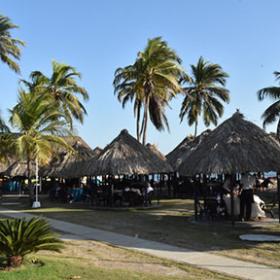 Photo Credit: ClubNavalmil.co
Club Naval is one of the best country clubs in the city. You can have all the fun you want here including activities like playing tennis, soccer games, swimming, and other activities. It is a great country club you shouldn't miss.
Parque Flanagan
Photo Credit: Inspirock.com
If you are visiting Cartagena with your kids, you should check out Parque Flanagan. Parque Flanagan is great park for kids and your entire family. At Parque Flanagan, there are playgrounds, trampoline, carousel, super slides, trains, and toddles section. If you want to read more about Parque Flanagan, to under all the attractions in this park you should click here.

Museo Del Cacao (Choco Museo)
Choco Museo is great place for a chocolate lover! ChocoMuseo carries a wide range of chocolate products from beverages to bars to shampoo. You can take a sample of pretty much anything in the store before you purchase. Click this link to know the good chocolate has on a person's health.
Juan del Mar
Photo Credit: lurecartagena.com
The best seafood is rumoured to be located in this restaurant. You can only find out when you try.
El Mirador Cafe Bar
A great bar here in Cartagena a great view from their terrace of the city as well. The food is really delicious as well. A little bit fancier food so if you are looking to eat typical Colombian food we'd recommend our resto locations. You should look up the best cocktail bars.

Tienda Café Sabor de Montaña
Photo Credit: Tripadvisor
Great Chic little authentic Colombian coffee place in El Centro. Really great area for meetings, getting work done or stopping by while in El Centro.

SECURITY
Travelling to Cartagena, all tourists are encouraged to make that move because all the tourist and vacation spots there are safe. Sharemycasa provides a 24/7 online support, private beach house (if you wish to stay by the beach). There are lots of vacation options to choose from.
THE OLD WALLED CITY
A very secured zone in the magic city lots of security personnel like police found there. The central tourist zone in the city.
BOCA GRANDE AND MANGA
Beautified with promenades that are palm-lined and friendly American vibes, this location is safe both day and night for tourists to enjoy their stay.
GETSEMANI
In the daytime, Getsemani is one of the safest places for you in Cartagena. They enjoy cafes, street music during the day and avoid night activities for your safety. Vibes in here come from hipsters found in the city. Learn more about Getsemani.
SAN DIEGO
This place is relatively safe as it houses both the students and durable heads. It is always safe in the afternoon but gets a bit awkward in the night.
CENTRO AND PIE DE POPA
With loads of attraction spots and chill zone found here, it still has to be enjoyed very well in the day and avoided in the night.
The tourists are advised to avoid places like La Maria, El Paraiso, Piedro de Bolivar; all these places are farther away from the old town and not guaranteed safe with little or no tourist attraction there.
You should do proper research of the cities before going on your trip and seek the safety tips from the locals in the town.
CONCLUSION
It is excellent to go on a vacation, but it gets interesting when it is affordable, with delicious meals, and safety. All these positive attributes you can get at hotels in Cartagena. With this guide, you shouldn't be confused about whether or not to make Cartagena your next travel destination on a vacay.
Vacation Cartagena is undoubtedly ideal and has continually evolved and improved over the years with new tourist centers and exquisite hotels springing up. Thus, after proper research and analysis here, I guess you have seen reasons why Cartagena should be your next vacation city.